Previous Issue | Next Issue
Dog Days


Intro | Notes & News | The Lowdown | Tips | Releases | Reviews | Features | Ads
Reviews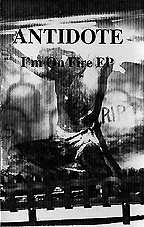 Antidote
Applause
Cassette EP (Diggity Dank)
I'm On Fire
Cassette EP (Diggity Dank)
The band, Antidote, has released two tapes in preparation for an upcoming CD. The first was entitled I'm On Fire (also the title of the new CD), which offered a promising beginning for a group which had its beginnings in a garage in Toledo, Ohio. I had written a review of the first tape, but held off in the publishing due to not receiving a copy of the band's bio. I'm glad I held off, because now that i've heard Applause, I can say that the band has indeed fulfilled the promise that was hinted at on the first release.
The first release was hampered by an erratic mix, especially where the vocals were concerned, and the inclusion of a live track which should have remained in the archives. Perhaps the new tape owes some of it's appeal to the engineer, Alan Binard, or to Schwab studios. But clearly the band has progressed as songwriters as well. The first tape had a distracting amount of repetitive two chord patterns, and although the band still relies pretty heavily on the formula, it has learned to break it up in more interesting ways since the first release. The vocals are up front where they should be, and the addition of harmonies on occasion also adds.
The melody and drive on the third cut, "Porn Queen" are notable, and some nice acoustic picking leads off the following cut, "Changes". I personally loved the change-up slap-funk of "Aimee". According to the band's bio, they are one of the hardest working bands in Columbus, taking any gig at any time. I just hope they keep working as hard on their songwriting and production skills, because if the improvement continues at the current rate, the new CD ought to be killer and take the band to a new level of recognition.
- Rodger- "Breakthrough Connections" (Sept 30, 1998)


---
Appalachian Death Ride
Years ago ADR shows were varied and inconsistent enough that I didn't know if I was going to see an Appalachian 60's, neo-hippie, psychedelic band with extended and lingering jams, a loud punkish garage band, and/or some drunk guys playing whatever came up. Not that these styles are all that different; sometimes the variance was from show to show, other times it was from song to song, and yet other times it was within individual tunes. Needless to say, sometimes I enjoyed it, other times I was bored with it and most often I wasn't sure what they were or what to expect.

Well, as far as I can tell, the inconsistency is gone. ADR seems to have mellowed with age into a mature songwriting band. Whether it's a tune including accordion bringing to mind some John Cougar Mellencamp and European folk or a more guitar-based solo Springsteen or Elvis Costello type tune, the songs are either well written and/or kept simple. In short, I found a renewed interest in the band after years of just not caring for the inconsistencies.

- Joel (Sept 06, 1998)


---

Bassholes
"Interzone" b/w "Yea Heavy and a Bottle of Bread"
7" (Seldom Scene)
Covers of Joy Division and Bob Dylan on the same record? Something I'd never expect, but it works for one high-energy Cash Money-type blues track and one well-done laid-back track reminiscent of the Stones.

- Daniel Strohl (Sept. 29. 1998)


---

Bob City
"Swamp Buggy Racin'" b/w "Dead Man"
7"
What more do you expect from titles like these and a picture of a definitely blue-collar man on the sleeve? This is what happens when Tool abandons their bend toward shock rock and takes up Jackyl-style rock, or when some people with the basic ingredients for a rock band actually make a rock band.

- Daniel Strohl (Sept. 29. 1998)


---

Burlap Sun
Sunny Intuition
CD
I really enjoy Burlap Sun's live show, so I was excited to hear this disc. Comparisons to Cake are inevitable, what with the whole funky-with-a-trumpet thing going on, but there the similarity ends. Burlap Sun grooves great, they have some catchy songs and the energy is infectious. The incorporation of trumpet to the sound is really nice -- it adds some texture to the sound without any long, overkill solos.

When the harmony vocals kick in I'm reminded of a less reggae-like 311. At times the sound is really reminiscent of the Disposable Heroes of Hiphoprisy, especially on tunes like "The Monte." It's not quite rap, not quite funk, not really jazz -- definitely different from most bands around town. "If U Were" starts out on a smooth, almost acid-jazz groove, and then moves on into a much harder groove in "Funny How Shit's Twisted." There's a good display of the band's mastery of both slow and fast tunes.

The only real disappointment with this disc is I feel it really lacks the energy of Burlap Sun's live show. The CD is a bit mellower and less intense than catching these guys live -- the songs are still good, the groove is right on, but to really appreciate Burlap Sun, catch them live first.

Nicole Wolfersberger (Sept. 29. 1998)


---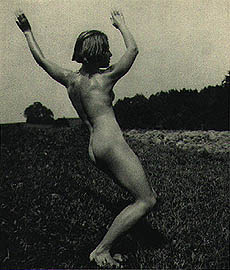 Cali Swain
CD/EP
I listened to this disc while driving across New Mexico at night, and that is probably the best setting for hearing this CD. If you don't have New Mexico readily available, however, just pop in the CD and close your eyes.

This EP consists of pure pop gems. You'll find nothing sparse about Cali Swain's sound -- lots of guitar texture fills every possibly corner of every song. There was something that bugged me about the vocals, but I couldn't pinpoint just what at first. The only band I can really compare this to offhand is a very moody Velocity Girl, or maybe Medicine, but I'm probably just saying that because there is a female vocalist.

"Hazy Mazy," the first tune, was also my favorite -- a beautiful piece that starts off with a little guitar ditty, followed by the vocals and then a wash of sound ... I listened to this one about five times before even bothering to move on to the rest of the CD.

I finally realized why I didn't much care for Kelly Jarvis' vocals -- the style reminded me of Natalie Merchant. Not the actual quality of the voice, just in her style. I didn't necessarily dislike it, but it seems like the music calls for a more subtle vocal quality.

That's being nitpicky, though. On the whole this is one of my favorite recordings I've heard from a local band. Highly recommended.

Nicole Wolfersberger (Sept. 29. 1998)


---

Flipping Hades
One Soul-Crushing Defeat After Another
7" (Seldom Scene)
This is a pretty smooth release from drummer Bim Thomas' Seldom Scene records.

The raunchy, kinda sloppy-on-purpose guitar stuff (credited to Jake Wyckoff and "Q") smacked of Rick Neilsen on Cheap Trick's first record, but the Hades' songs aren't arranged as neat. But that's good here. I like their approach to the guitar - kinda gravelly, dissonant up-yours stuff.

The double-vocals aren't that standard patch-over garbage either - the two guys sing/scream different parts and it sounds damned fine. Thomas grooves behind it.

It's a friggin' dogfight between "Always Cease to Amaze" and "Millionaire" for which is the fave. There's pop in them thar tunes. This shit sounded better on 2nd and 3rd listens. I can dig it.

- J.D. Dallas (Sept 30, 1998)


---

Ghostwriter
"Dambuilders" "Wish King Another" "You Like to be Touched"
3 song CD
Whenever I go to frat parties (which isn't all that often) and a band is playing, they sound very much like this: pop rock, quite often bland and overly sentimental with very little to offer musically or anything new to add to my life. The last track is pretty good for low-key chillin', though.

- Daniel Strohl (Sept 06, 1998)


---

Heartdrops
Truth Comes Around b/w Eight Days a Week
7" (Break-Up!)
Columbus' Break-Up! records took a little road trip to New York to break you off a big 'ol piece of guitar rock to wash back some 40's to (drink 'em fast, it's only a single).

These road warriors from out east whip off a typical Break-Up! tune with the A side (pop song, loud guitar) and give ya a little Beatles ditty from the same session on the B (a little stripped down, but in a good way, like a 39 Ford without the chrome)..

I'd call it nice guy punk/pop. Groovy guitar solo on "Truth" too.

They come here a lot, and deliver more of the same live.

- J.D. Whore (Sept 29, 1998)


---

Mulchmen
All the News That's Fit to Surf
7" (Big Beef Records)
You gotta love the liner notes to this. The Mulchmen fictionally place themselves among the annals of surf rock fame on such traits as "overwhelmingly mediocre sex appeal" and how they "vacantly stare conventional rock 'n' roll in the face with ferocious indifference." These guys are my vote for Underachiever Surf Rockers of the Year.

And they surely are not what one would call conventional rock, but they do play many of the conventions of surf. They play it well, no doubt, and I wouldn't mind seeing them live now that i've heard them, but they dont really break new ground here.

- Daniel Strohl (Sept. 29. 1998)


---


Pat Dull and His Media Whores
"All Torn Up"
7" (Break-Up Records)
Pretty Mighty Mighty
Bitten By Bulldogs
EP
Pop. Hmm. Still hate the music, but I'm beginning to appreciate quirky marketing schemes.
- Daniel Strohl (Sept. 29. 1998)


---
The Pure Plastic Tree
The Action Poets vs. George the King of Swing
CD (Big Beef)
Grunge-a-riffic! This CD has that moody acoustic rock thing going with good crunchy grooves. The vocals uncannily resemble Eddie Vedder, but there the Pearl Jam comparison ends. If anything, this band reminds me of Marcy Playground with a touch of evil Camper Van Beethoven "9 of Disks" thrown in (must be the violin). For some reason I was also reminded of Spain. I tried to dislike this CD -- it's nothing remarkable, but somehow I haven't gotten around to removing it from my CD player. Bonus points go to the elegant, uncluttered package design.

- Nicole Wolfersberger (Sept 06, 1998)


---

Real Lulu
Hell
7"
I listened to the "Motorhead" side of this 7-inch first and my scrawled notes on it went something like this: "pretty typical rock w/girl singer ... vocals not bad ... fairly nondescript ... do you like 4-chord punk-garage rock? ... do you like female singers?" I found the lyrics cheesy ("I take the challenge to be tough/Don't think I'll ever get enough.") I wasn't too impressed.

The "Hell" side though -- now that blew me away! First of all, it was inspired by Joseph Campbell. Now how cool is that? A really catchy, really fun tune. A little too intelligent to be dumb rock, but not so intellectual that you can't jump around to it with relative ease. Not to mention the "death march" part of the song which is a nice little interlude. Although I didn't really care for "Motorhead," "Hell" more than makes up for it and therefore overall this 7-inch rocks. Not to mention it has Indie-Rock Star Power!!, the A-side having been recorded by Kim Deal.

Nicole Wolfersberger (Sept. 29. 1998)


---
Peter John Ross
The Basement Tapes, Vol. 1 - Monkey
Here's one fella who doesn't have to worry about having low self-esteem. He seems to feel his very recycled, very heard-it-before-on-some-low-budget-movie-soundtrack electronic smooth jazz gives him a licence to label some tracks like classical pieces (Funk Song in E, Nightmare in E Minor, etc.). He even makes guest artists Looney Bin and the Soulfingers sound watered down.

- Daniel Strohl (Sept 06, 1998)


---
Silo The Huskie
EP
CD (none listed)
Silo's ability to write a good pop song is still intact, and improving. This little cassette "EP" - which,last I heard,is from a forthcoming full-length CD- has one standout tune called "Sasquatch," which really has less to do with the mythical(?) beast than the big mondo-fuzz bass riff that opens it.

Not that the other 3 offerings here are slouches, they just don't hit the user-friendly verse/chorus arrangement square in the face like this one.

The switch the band made to a two-electric guitar format does tons to drive the tunes home (their singer used to play acoustic through a fuzzed-up amp).

The only problem here, as it is with Columbus bands without the cash, is that these guys really need some big-assed production. Sure, if the songs are there, and they are, they should come across on a Victrola - But I think the Huskies have something going that needs the boom and the sheen to take 'em where they apparently want to go - which is rock radio guitar pop.

What it looks like you'll get on the disc is good songs and vocals, and oft times quirky-jerky arrangements played by good musicians and recorded at a Chillicothe workshop-type of place.

Sonically not what it should be, but talent-wise I've always thought these guys kicked ass.

- J.D. Whore (Sept 29, 1998)


---

Thomas Jefferson Slave Apartments
You Looking for Treble?
CD (Year Zero/Vinyl Retentive)
I used to sing in a high school death metal band named Doom. They only played one show and that was before I joined. So all I know of the behind-the-scenes scene was basement practices and low-quality tapes. This disc captures that feeling precisely, which I find very cool. As for the band and the music, I believe things would be different if TJSA were hailed as premier Columbus punk instead of the New Bomb Turks. I love the Turks, don't get me wrong on that, but Ron House has more recorded personality that all four of the Turks combined. And when you have tracks with names like "Spasm of Morality" and "Turntable Battlefield," you know you're in for some intellectual fun.

- Daniel Strohl (Sept 06, 1998)


---
Tiara
Calling the Whales
CD (Hub City)
Yawn. Sleepy shoegazing video game indie space pop for pretty boys in glitter pants. Long masturbatory grooves with sound effects behind them (solos?) that last forever and which I assume build, except I fell asleep before they climaxed so I couldn't honestly tell you. I thought all the songs sounded basically the same.

I'll give credit where credit is due -- the music is pretty and seemingly easy to listen to, but just when you think it's gotten repetitive, Tiara throws in a rhythmic twist or strange dissonance that grabs your attention. I think they would benefit from paying more attention to vocal harmonies. I even liked track 4, "Watch the cars," quite a bit. To be honest, Tiara isn't a bad band and they are good at what they do ... it's just that, what they do isn't my bag.

- Nicole Wolfersberger (Sept 06, 1998)


---
Tiara
Find the Time
7"
Tiara is kind of like Morphine. No, not in the actual sound of the band. It's that Tiara has a unique sound that is immediately recognizable as being Tiara; however, within that sound, all the songs sound very similar to one another. That being said, this 7-inch is a collection of three mellow, wistful, spacey-sounding tunes. The vocals are really laid back and almost lethargic-sounding, which I kinda dug. "Find the Time" and "10 lb Dream (diner)" I found to be okay songs ... not bad, but nothing that really struck me. I was pleasantly surprised to find that I loved "From the Top," however. A sparse, intelligent little pop tune that kind of made me want to cry and laugh at the same time. I like how detached the vocals seem to be, though I'm not sure if that's the intended effect. However, I'm still going to hold to my belief that incorporating more vocal harmonies would really add to Tiara's sound. Maybe I just need to take my Tiara in smaller doses.

Nicole Wolfersberger (Sept. 29. 1998)


---

Tiara/Preston Furman
Birthmark/Drive Me Down - High Seas/Mexica
Split 7" (Seldom Scene)
The Tiara side of this Seldom Scene disk from 1996 is standard quiet/loud plodding along stuff. I actually recommend playing this 33 1/3 side at 45rpm (which I accidentally did at first) because it sounds better.

It was like a college rock whispering chick singing, and the song structure was more noticeable.

Preston Furman rocks a harder (and faster) on the flip side. Still, it sounded a little sophomoric (they look really young in the photo)...but hey, it was a few years ago.

Most redeeming thing was a d.i.y. cut-and-paste insert with a dedication to "worm" and several options for receiving music and other correspondence from the bands.

- J.D. Dallas (Sept 29, 1998)


---
Waxy Monx
I must say that the review on Waxy Monx (from a 1996 issue of Cringe) is a bit out-dated. I have seen the Monx several times this year at Ruby Tuesday, Little Brother's, and at some fests opening for Jerry Garcia Band and Hypnotic Clambake. They kicked ass. They put on a tremendously tight show every time with some intense improv psychedelic jams and great effects. Their lead guitar player is as good as anybody. Their rhythm section is strong enough to play lead for most local bands. Their originals are written on the same level of complexity and creativity as Pink Floyd's, Allman's, Zeppelin's and Phish's. Their live show is ever so tight despite the fact that they call their tunes on stage and improv their way from song to song. They have a kick ass light show too. They are ten times better than any local jam band at their level. I have no idea if the Monx were any good back in 1996, but they are still around now and are easily the best jam band currently in Columbus.

- Lee D Bass (Sept 06, 1998)


---

Willie and the Voodooz
Medicine Man
CD (Flavatone)
The Voodooz are Woody Hamilton on guitars and vocals, Dave Joseph handling the drums, percussion and backing vocals, Greg Patton on bass and of course Willie on guitar, vocals, piano, turntable, and samples. Willie and his band have been a fixture in their hometown of Columbus, Ohio for two decades.Their recent schedule includes additional dates in Marion, Ohio and Huntington, West Virginia. These seasoned musicians have just released their new CD "Medicine Man".

The only question that I have after listening to the new release by Willie and the VooDooz is, which Woodstock should they have played at? Answer? Both!! There's enough psychedelic sounds and lyrics for the seventies and enough funk and groove for the nebulous nineties. "Dance Revolution" opens with heavy guitars and octave playing on the lead solo. Willie sings, "I Came to party all night long." The wall of sound is mixed with solid melodies, a harpsichord sounding break in the middle and the whole band chanting at the end. Powerful! "Caroline" brings us into the semi-acoustical mode with a steady beat and Willie singing, "Caroline got married today let's get trashed." The funky rap groove of "Wonderland" mixed with the psychedelic lyrics creates a new sound that should be bottled and sold at all grocery stores. The label would read "Nothing but a party in the acid house". This one will make everyone dance and even satisfy the recent resurgence of the eighties' fans. Woody plays tasteful slide guitar on the "Wall of Pain" track. The clever use of different instruments and effects throughout the Cd keep each track fresh and new. "Until the Planets Crash" brings us back to "in you face" rock. Good sing along tune with an unforgettable melody. Greg Patton lays down the bass line on "Mary is a Go Go Girl", another solid dance song. "Medicine Man", the titled rack has a bouncy, Tom Petty-like rhythm. Willie sings "Mary Haven, I need Rest" I've never been there-----yet. Good guitar work. This one could be a single. My favorite rocker is "You Ain't All Of That." The Bo Diddley pulse mixed with the wah wah playing from Woody and the solid drumming of Dave Joseph will set any crowd on fire. I'd put this one on the radio also. The instrumental "Strawberry Lennon" is a "Strawberry Fields" flavored tune, obviously. Good idea! Gives me a flashback buzz. Overall I'm impressed with the quality and style of "Medicine Man." The tracks all sound different and have lasting melodies. Willie and the band translate a lot of their live energy into the recording.. They deserve to have success with this one. For more information about the band, their past recordings and schedules visit their website at (http://members.aol.com/williephnx) The CD is available from the site. --RnR Dave

Recorded at Musicol and Metropolis Studios, Columbus, OH

Willie Phoenix at (http;//members.aol.com/williephnx) [email protected]

- Rock and Roll Dave (Sept 07, 1998)


---