Previous Issue | Next Issue
Blah


Intro | News & Notes | The Lowdown | Releases | Reviews | Features | Ads
Features
Bigfoot | Orchestraville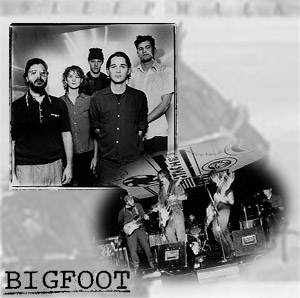 Interview with a Bigfoot
The interview took place at Larry's Bar & Grill a few weeks ago. Bigfoot is David Bleveans-Holm, Melanie Bleveans-Holm, Bill Clark, Brad Swiniarski and the occasional Rhodes player, most recently Jonathan Beard. Their CD Sleepwalk was released in late 1996. Dave and Melanie are married to each other. As a fan I was hoping to offer them a platform to discuss whatever and I hope the questions provoked some good conversation.
Dave is a little gun shy. We briefly joke about his nervousness for interviews. We settle in to a booth and hit play. Portishead joins us from the jukebox.
Can you give me a brief history of the current band line-up?
Dave - The first thing that happened was Jeff Clowdus, our previous second guitar player, decided to move to NM. Bill had been sitting in and playing some pedal steel on a few songs and he was incorporated into the group as a full member. [Jeff Wood decided not to continue playing. Jon Beard came in about 6 months later.]
With an uncanny appropriateness imagine one of Larry's drunks singing "on the good ship, lollipop ..."
Was the material for Sleepwalk already written before Bill joined the group as a permanent member?
Dave - Yea, most of it was a couple years old. And some of it came from a project [a band called Tent] with Melanie ... and the drummer in Ugly Stick (Jeff Clowdus). We really didn't write much of Sleepwalk together.
We digress into talking about Albuquerque briefly.
What has Bill Clark brought to Bigfoot and the songwriting process?
Dave - Well, when he first started playing with us and working on songs from Sleepwalk we had never played those with a pedal steel. Now when I write certain songs I just know how that instrument is going to fit in.
Bill - I don't think the songwriting has changed much at all, until very recently where I get to work things in that work better with Dave's ideas. [I've become much more comfortable working my ideas into Dave's songs.] It's tough when Brad's in Athens and it slows the process.
We digress to talking about Heifer briefly, Bill Clark's well received project on Bluehouse Records -- originally started by and for Ugly Stick. Their first full-length was released in 1997.
Dave - Heifer writes their songs together -- right from Bill's guitar. A totally different process ...
Do you come in with the idea generally?
Dave - Pretty much ...
Melanie - Dave hears the whole song in is head.
How much writing happens acoustically?
Dave - I just sit and play ...
Melanie - He does not sit down and play. He strolls around the whole house -- takes his little tape recorder with him.
Dave - I play the guitar a lot and almost always come up with the guitar part first, but it varies. I may write a part on piano or sing a melody and try to match the music with it later. Once I get the lyrical and melodic idea down we are able to flush it out from there.
What is the difference between Sleepwalk and the newer material? Is this material ready to be recorded and released?
Dave - I'm not sure how to say the songs are different. The material has all been recorded with Bill Heingartner at Bluehouse. It's just a matter of having the money to put out the record. [Some of the songs on Sleepwalk were written by Jeff C. and Brad.]
Bill - I think the songs are different, but it all comes from the same place ...
The next record.
Dave - We are putting out a 7" on Seldom Scene run by Bim with two songs: "Fucked in the Head" and "Two Drunk to Say" -- stuff we recorded last summer at Bill's house. We have enough to ...
Intermission for my "milk" and another round of Black Labels for the band.
Bill - We have nothing to talk about regarding the new record. We hope something happens soon.
(They actually have two singles in the works -- one on Anyway Records and another on Seldom Scene.)
OK. Well then, moving on ... It seems like, at least live, Melanie is singing more?
Dave - Sometimes I write with the idea of a harmony part in mind for her, but for the most part we work it out ...
Melanie - Sometimes, when I hear him sing, I can just hear the additional part and Dave may say "cool" or "nay!" [or "try this"]
Bill - Are you slowly getting the picture that he's a fucking tyrant! (Laughs galore) Someone has to wear the pants, right?
Dave - It just really varies. Remember, Melanie had only been playing bass for a few years when we started Bigfoot.
Bill - Melanie is getting more and more confident.
Did you get to buy a new bass last week?
Melanie - YES! A 1978 P-Bass, Fender Sunburst. It's very attractive. Now we all have sunburst guitars. Another thing that has developed is that we are practicing every week, but its tough without Brad. Yet he's so quick and talented; he's worth the wait.
Dave - Things would move faster if he lived here. Brad is in school in Athens
How do the keyboards fit in to the ensemble, since I've seen you with and without one over the course of the last year?
Dave - It's definetly not an every song thing, which makes it a person who kind of comes and goes [during a show]. I bought a Fender Rhodes and had it laying around and said, "Hey, what can we do with this."
"So What" by Miles Davis causes an awkward pause. Bathroom break.
Dave - We tend to record everything live, overdub the back-up vocals, and it has a strong live sound.
Bill - To Bill's (Heingartner) credit, the technology has stepped up since Sleepwalk. We recorded a bunch of new songs on a 1/2 inch eight track. Now we have a one inch sixteen track. The guitars are louder.
Do you think you will process anything with effects?
Melanie - We tend to use natural reverbs and room acoustics, even when we're recording ...
Dave - I don't really like digital effects.
Bill - I just bought a rotovibe. It's a start.
Kudos? (A Kudos commercial includes a Bigfoot song.)
Dave - The name of the commercial is "Swan Dive." I've never seen it.
How did it come about?
Dave - Tim, the drummer for Ditchcroaker, works post-production sound stuff and Kudos needed something coming out of the radio in this commercial. He took one our songs -- just the introduction to "Amy's Gone."
Bill - My understanding is that these kids are riding around in the desert starving and bored and it just so happens that they are hearing Bigfoot just before one of them bites into a Kudos bar and they start rockin' out to some punk on another channel.
Melanie - We didn't mind ...
Dave - It was sort of weird. I mean, they paid us generously for the use of the song and didn't even buy the rights. It was like they were renting a prop. We used the money for the recording we made last summer.
Melanie - So it was a little insulting.
Bill - Basically, all it has meant for me is that at family dinners when someone asks, "Are you making any money." I can say, "Yea! I was in a Kudos commercial." and they go crazy.
Dave - My Mom sent the annual family Christmas letter: David's big highlight of the year is that he was featured in a Kudos commercial!
How do you guys feel about college radio? Airplay, etc.
Dave - We get a little on WCBE [and KBUX].
Melanie - We are just now gearing up to send out a real press kit with demo tapes
Dave - When it was released, Lizard Family Music did send out some and that helped it get reviewed and got us few shows out of town. If you want anything to happen you have to do it yourself, I guess. Who needs a stack of their own CD's laying around in the basement.
OK. Since you guys are married? How is that?
Melanie - We definetly get along well ... [This extends to working out music and other creative projects.] Recently we've talked a lot about getting the shit together with the band.
Bill - I think it's great. They show up to rehearsal with songs worked through.
Dave - We have been spending much more time lately at home [working out new songs with two vocals right from the get go].
Like at home, in the bathroom?
Bill - In the bathroom? You actually sat in the john?
Dave - No, ours is too cold.
Concept of sound (influences question) visuals, songwriters, poets ... I don't care. Whatever gets you off.
Dave - Hell, I don't know.
Record collection?
Dave - I don't listen to very much music in the same genre that we play. We do get compared to the "No Depression" stuff, Wilco, Uncle Tupelo -- roots rock ... It's odd.
Bill - Some of the magazine reviews have compared us to the Thinking Fellers and a bunch of new bands.
Melanie - Superchunk? The Magnet review.
Dave - People say weird things. We have a female bass player so it must be like Superchunk.
Do you listen to a lot of jazz?
Dave - I just got the Village Vanguard John Coltrane set, but I would say I listen to all types of music.
Melanie - X, Rolling Stones, Pharoah Sanders, Tom Waits ... Peter Tosh
Dave - He's someone's [Peter Tosh is Dave's] hero.
Who is your favorite Spice Girl?
Melanie - Is that written down!
Bill - I love them all, equally -- all at the same time. They're hot!
Dave - [I don't know their names.]
Beer break. I have more "milk." Three Black labels appear.
Dave - Everyone listens to different stuff. Brad and I have been really seeking out Delta blues. I've listened to the Stones forever. When I was 18 and would read that Keith Richards said, "Hey, Robert Johnson was cool" -- I would immediately go check it out. As far as Rock-n-Roll goes you really can't beat the Rolling Stones -- especially the late sixties and early seventies recordings.
Did you have any favorite records from the last year?
Dave - Yo La Tengo's I Can Hear the Hearts Beating as One and I thought the show was beautiful. The quiet songs, the gentle pieces. You know, the lullabies with Gay Hubley singing are great. To do those live in a rock setting is [hard to pull off]. [I bought Verbona Souls at a Little Brothers show. It's great.]
The Midwest. Columbus, OH. No-Depression. Melancholy. Long Walks. Has the Midwest creeped in to the music?
Dave - The songs aren't suppose to be sad. [I try to write from experience; that is my experience.]
Melanie - We're all Midwesterners. You know, Delaware. [I grew up in Illinois.]
Bill - I'm from the wrong side of the tracks, Worthington. I remember listening to Ugly Stick and recall thinking that where you grew up definitely has something to do with the songs you write. It's neat.
Now they're toasted. Would it be better somewhere else?
Bill - If we were in Minnesota we'd be big stars.
Dave - It's different in Athens. People want to get up and dance; and the response is very warm.
What happened here, in Columbus?
Bill - He's baiting us ... As far as Bigfoot is concerned we are getting better each time out. You know, they're are a bunch of people around and they tend to support their friends and it builds from that point.
Melanie - It's a human barrier of sorts ... It's up to the individual, at some point you have to jump over the log and meet people. The groups have come together.
Dave - We tend to play with bands that are our friends more than those that may be closer to our sound. I want to play with bands I like, like Heifer.
Bill - I have never played in a band that is so satisfying, I love you guys damnit.
What would be the best thing that could happen to Bigfoot this year?
Dave - I would really like to find a way to pay for the record.
Melanie - Put out the record, get decent distribution and give us a van to tour around in. I don't want to own it! just borrow it, and stay up late at night.
Dave - I hope Brad graduates from college.
Bill - I think those are all very beautiful and modest goals, but personally I want to play in next year's MTV's Rock and Jock B-Ball jam. Queen Latifah, Bill Bellamy ... I want to be making jumpers. I'm good. That is want I want to do.
Have you thought about Showcases? CMJ etc.
Dave - Sure, larger exposure. There are two aspects: Trying to be a good band -- which I think we do fairly well. And the advertising aspect -- schmoozing, PR stuff -- which if anyone has suggestions I would consider ...
Waxing nostalgia. Romance.
Dave - Are we spending band money on beer. I'm scared.
Melanie - It's a VISA [Check Card -- just got it]! Get used to it.
Dave - I will pay for a round with my card. We're good with the band fund.
Melanie - Six or seven years ago I was driving in my car listening to X or something -- you know [the album] with "Fourth of July" on it. I remember listening [to Exene and John Doe harmonize] and thinking how wonderful it would be to sing and play music together (looking at Dave, now in a full blush).
Bill, talk ...
Bill - I don't want to say anything wrong and get beat. Somewhere there are inspired motherfuckers making good music, even in bands I don't like.
Mr. Hendrix kind of takes over ...
- Troy (Feb 1998)