Previous Issue | Next Issue
Spring 2001


Intro | The Lowdown | Releases | Reviews | Features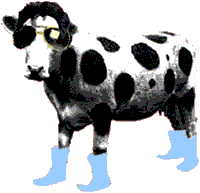 The
Weekly
Lowdown


Submit Lowdown info below or contact:
Pat Dull /

[email protected]



---
The Red Cross: http://www.redcross.org/
Tuesday, March 5, 2002
TELL FLIPPING HADES THEIR NEW CD IS CALLED ...
Local rock gods Flipping Hades are hosting a CD release party this Saturday, March 9, 2002, at Little Brother's. The CD is called Tell Peaches Lula Called (Derailleur). Joining FH are Pretty Mighty Mighty, Bygones, and Townsmen.
GERMAN QUARKS IN SPACE
Columbus space-rock band Quarkspace recently appeared on a compilation CD included with the latest issue of the German magazine, Eclipsed. The song featured was "Sound Inside You" from their CD Drop.
ORCHESTRAVILLE CONTINUES ROBYN HITCHCOCK INFATUATION
Orchestraville appears on the new Robyn Hitchcock tribute CD, Glass Flesh, Volume 2. Their version of "The Executioner" has been in the can for a few years now, and it's finally seen the light of day. Act now and get Fish Gloss, a collection of originals by the bands on the tribute record. Orchestraville's "Weatherblown" and "The Good, The Bad, and You" appear on this 2CD set. Check out http://glasshotel.net/glassflesh for more details!
- Pat Dull
SCOUT NIBLETT AT LARRY'S TUESDAY, MARCH 5
Secretly Canadian is a small record company on the rise, and the unorthodox indie-pop of most of their releases is quickly becoming its "sound." Scout Niblett fits nicely into the mold on her debut, with a minor-chord-fixated alt-folk minimalism that lets her voice (that manages to come off both powerful and wispy simultaneously) take almost all of your attention. She endearingly applies a child-like imagination in dealing with adult emotions throughout Sweet Heart Fever helping the Brit prove that she's talented and quirky, but she's also interesting. This is increasingly rare in esoteric fare.
IF WARHOL WERE A HONEY
The OSU Big Free Concert Battle of the Bands was Saturday. Each band had 15 minutes to win over the judges which included Tom and Rudy from CD101's Independent Playground and Fat Johnny from The Blitz's Local Stuff. In the end, the Honey's rocked 'em all. I enjoyed the Soul Fu Villains' funk horn hip hop mix more than I recalled. Woosley's new guitarist raised added some onstage flare to their normally more subdued Van Morrison/David Gray roots.
I brought my camera along with me too. The pics and few vids are in Ear Shot Raw. Just look for March 1 galleries for Fire, The Honey's, The Jeremy Richter Effort, Soul-Fu Villains,Spiker-Konesky Band, Stonevelvet, and Woosley Band.
ZINE LOOKOUT
Hmm, could it be local zines are making a comeback? A couple weeks ago I picked up not one, but two different zines.
Ripped and Clipped No. IV looked familiar and the big IV on it kinda reinforced that. It's a 34 page collage of photocopied punk, rawk, alternative lifestyle stories, news clippings, artwork, ads, reviews and interviews from various sources and decades. The main feature is the Clash. When questioned about the zine, one upstanding gentleman commented, "I know ... nothing, as such a magazine would violate copyrights and the like. I am shocked and outraged."
The other 14 page zine takes the local route with what I'm perty sure is largely original content about and by local "scenesters". Track Marks includes "Co-conspirator" bios, VD-be-damned personals, connect-the-dots and comics. Headlines like "Used Kid's Sucks", "Rant and Rave with Ted" and Chevy Chaser's Scandal" are sure ta get the attention of the young, rebellious punk at heart. I think you can write Track Marks here:
Track Marks
412 E. 20th Ave.
Columbus Ohio 43201
No evidence on where ya should write Ripped and Clipped, but rumor has it Pat knows a guy who knows a guy ...

BE MY GUEST ... BARTENDER
Bernie's Distillery has been supplementing its staff with weekly guest bartenders just about every Friday, 5pm - 8pm for the last several weeks (months?). Generally pulled from regulars and local luminaries, the visiting Vodkateer has perty much free range on appetizers, entertainment and, yes , drinks. Oh, Friday happy hour specials are $1.00 rum and cokes, $5.00 pitchers of Bud Light and whatever else the bartender likes ta pour.

- Joel




---
LOWDOWN SUBMISSIONS

Do you have news or information about the local music scene? Let us know here.