HOME of CRINGE: CRINGE: 6.1: Introduction

---
ISSUE 6.1 The Maybe Next Time Issue WINTER 1996
---
CONTENTS
Introduction | Letters | News & Rumors | The Bands | Miscellaneous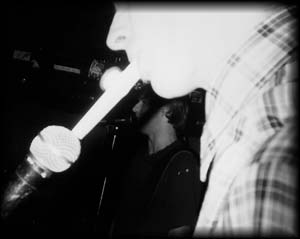 ---
FORWARD
Well, the theme of this issue was originally "The Worst of Cringe." Then things slowly mutated to "The Yearbook Issue." The idea was a sort of round up of the previous year's bests worsts and most likely to's. Most people seemed to think it was a perty cool/fun theme. But, when it came down to it, very few bests, worsts or mosts were submitted. So somehow "The Maybe Next Time" subtitle seemed more appropriate.

This issue marks another first for Cringe: the World Wide Web version was made available before the printed or e-mail versions. Actually, I may hold off (i.e. procrastinate) on preparing and distributing the non-www version until I'm satisfied with the www version. Call me an elitist, but the web is the cheapest, most interesting and most well-suited forum for Cringe. I still will accept and even encourage non-net people to mail, phone in or otherwise submit reviews, music, information and even pictures to CRINGE. Now it still has to relate to the local music scene. And if ya can get things to me on disk, it'll be a lot easier for me.

Have fun, Joel Treadway | [email protected]
133 W. 6th Ave. | http://www.cringe.com
Columbus, Ohio 43201 | (614) 421-7589
---
CONTRIBUTORS & SOURCES
  GDCII/Gary Chesser     

[email protected]


  gaffa                  

[email protected]


  Matthew D. Shufeldt    

[email protected]


  Creeper                via Joel/CRINGE
  Nathan Weaver          via Joel/CRINGE
  Joel                   

[email protected]


  Paul Nini/Lower        

[email protected]


  M.E. Cannell 
  Mark G., O.P.          

[email protected]

                     
  Tony Painter           

[email protected]


  Chicago Soundweb       http://www.soundweb.com/Sched/
  The Columbus Dispatch  http://www.cd.columbus.oh.us/
  Columbus Alive         http://www.Columbus.Net/alive
                         http://www.columbuspages.com/Alive

  Music Exchange of Ohio  
    http://www.scsn.net/~musex/exchange/states/Ohio/columbus.html

  Twangin' 
    http://www.tpoint.net/Users/wallen/country/twangin1.txt

  Mark Lo/Factsheet Five
    gopher://gopher.etext.org/00/Factsheet.Five/You_Could_Do_Worse
---
Q & A
"HOW/WHERE DO I GET A COPY?" Send e-mail to

[email protected]

with the Subject SEND for the current CRINGE. It will also be posted to LS*, osu.music, cmh.general, gcfreenet.arts.music and http://www.cringe.com. For those of you not online, ya may find it at select OSU area music stores, clubs, or just ask me for one. (NOTE: hardcopies may be very limited.)

"HOW DO I SUBMIT SOMETHING?" For the first time I will encourage those of you not online to send entries in: CRINGE / 133 W. 6th Ave. / Col. OH 43201. If ya can get them to me on a MAC or IBM disk (several formats to be safe - ie. text, RTF) it'll be a lot easier for me. Ya can phone in info too: 421-7589. And, as always, you can e-mail them: [email protected].

"WHEN'S THE NEXT CRINGE?" The next issue should be out in April, 1996. The DEADLINE for submissions is April 1, 1996.

"WHAT'S THE THEME OF THE NEXT ONE?" Who knows? An updated version of the directories will be included in each issue. So, if you have additions or corrections to make to the directories, get those to me too.

"WHY DIDN'T YOU INCLUDE ... ?" If ya wanna see something added, let me know. Better yet, send it in for the next issue.

"I'M NOT ON THE INTERNET." The cheapest, most universal way to get an account is to go to your local branch of the Columbus Public Library and request info on Greater Columbus Free-net accounts. It's free; and I believe some of the libraries have computers you can use for free to access your account. If you're an OSU affiliate, the best place to go for getting your "obligatory" free OSU account established is the 5th floor of Baker Systems. Most of the other Public Labs at OSU can help ya too. OSU has hundreds, if not thousands, of computers you can then use for free to access your account. Confused? Ask a friend who knows (or even me) to get ya started.
---
HOME of CRINGE: CRINGE: 6.1 | Previous Section | Next Section
---
Created by Joel Treadway Last Updated: Aug. 13, 1996


[email protected]

| http://www.cringe.com
133 W. 6th Ave. | Columbus, Ohio 43201 | &nbsp (614) 421-7589